How to convert Microsoft office documents to PDF?
Do you think that Wise PDF Merger is not so perfect for you to deal with these office works? Do you hope Wise PDF Merger could have more functions to help you in daily work? Have you just feel if there is some kind of software with more functions like merge Word to PDF, or Excel to PDF, even merge two different kinds of documents to one PDF file? To tell you truth, you are not daydreaming. Because there is really one software could achieve what you hope to above.
That is Wise Office to PDF.
Wise Office to PDF is one powerful software with precise and compendious interface to convert Microsoft documents to PDF. Since PDF file has been one very popular document format in different areas, we always have to convert word, excel, and other Microsoft documents to PDF file. This kind of software can not only convert Ms office to PDF files, but also merge different kinds of Ms office to one PDF file, which other converter cannot compared with.
Following is the steps to use the software:
Step 1. As you install and launch the software, click "Add" button to select Ms documents you want to convert;
Step 2. Click "Settings" to do some output settings, such as security, watermark, page layout and so on;
Step 3. As all settings are done, click "Convert to PDF and Save As" to begin converting Ms office to PDF.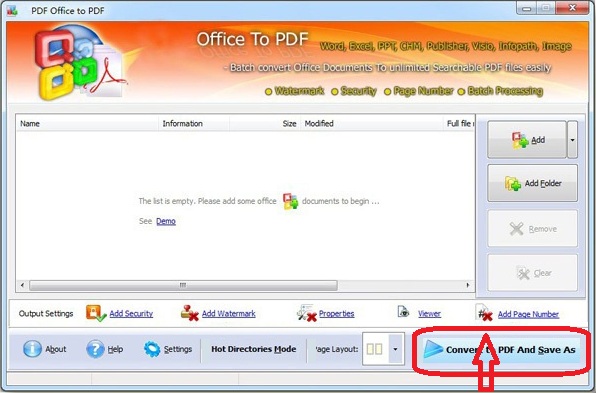 Till now your PDF has been converted from Ms office documents. You could find it convenient and easy to use.
Previous: How to add bookmark for your flip book?
Next: How to insert a photo slide show into your page-flip book?
Download
page-flip book
software to have a try now >>
Wise PDF to Flipbook Professional: