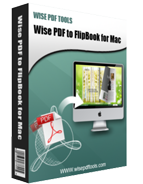 $99
For Mac OS 10.5+ version or above

Wise PDF to FlipBook for Mac
Ease converts PDF to flash magazine on Mac!
The wonderful software which supports to use on Mac OS X;
Enable Mobile phone users flip the book page with Mobile version;
HTML/App output types provided for you to use;
Share to others via Email or Social networks;
Define flipbook background to make you own theme;
Free Download the latest version;

Free TrialBuy Now
Flash Player 10.0+
Why Use?
Features
Screenshot
How It Works
Wise PDF to FlipBook for Mac is specially designed for Mac designers to convert PDF to animation flash magazine with page flipping effect. This wonderful Mac converter provides you different style templates to make a beautiful flipbook, and also allows you to customize flipbook background to make you own theme. If you want to prevent unauthorized access, you can add a password for all pages easily.
1.Full-Control of your creative process

Wise PDF to FlipBook for Mac is software that only runs on Mac platform, such as Mac OS X Lion, Mac OS X Leopard, and Mac OS X Snow Leopard. With the easy-to-handle interface, you can get full control over the conversion process: easy import PDF, design your favorite style and choose one of the output types to converting. No the Flash design skill or the third party software required!
2. Enable Mobile phone users flip the book page
While output flash magazine with HTML types, enable Mobile version at the same time, mobile phone users will be allowed to link to your webpage and flip the book page directly. Easy help you to obtain mobile phone users attention and improve the influence of products.
3. HTML/App output types
Wise PDF to FlipBook for Mac software provides you HTML/App types to create flash magazine. Output flipbook with HTML type, you can embed flipbook to your website for online sharing. Or if you want to read on Mac, you should output flipbook with App type.
4. Make a wonderful eBook with different templates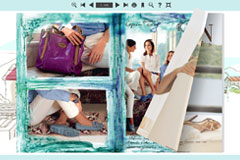 How to make an attractive eBooks in Wise PDF to FlipBook for Mac? This software allows you to choose one of the pre-designed templates to create a beautiful flipbook, including Classical/Float/Spread/Neat templates. Or download free theme on our website to design.
5. Design a unique style of flipbook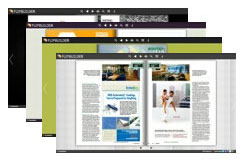 With the friendly user interface, you can make a unique style flipbook without anybody help. Just change background color, add background images/SWF, or add a moving music on the design setting panel. Using this powerful converter to design a unique style, give your readers shine at the feeling.
6. Lifetime Free update
Our company aims to provide customers with high quality products and services. We adhere to the tenet "quality first, credibility supremacy and dedicated customer service" over the years. Therefore, you can free update the latest version of your application online for a lifetime in order to get more functions and new features.
7. Full refund within 30 Days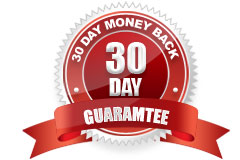 If you are not very satisfied with our products for some reasons, you can contact us directly by email. Welcome to give us some suggestions, we will solve out any problems you raise. We promise to give you full refund within 30 days if you are not satisfied with our software.
Features
Wise PDF to FlipBook for Mac software Features:
1. Import PDF text, links, and bookmark
While import PDF text content, Enable import the links, bookmark of PDF files, those setting will be great preserve on created flipping publication and you can use these feature as usual.
2. Different style template provided

With using different template, you can make a different style flipping publication. Ease design a unique style flipbook with Classical/Float/Spread/Neat template as you like. Besides, our website provides you free themes to download.
3.Change FlipBook Background

You can adjust flipbook background color, select a background image or SWF for inner or outer window, or add a beloved music as background sound. After decorating, you can store the current setting as your own theme and export to use later.
4. Online or Offline output types

Wise PDF to FlipBook for Mac gives you various output types to output flipping publication, used for online and offline. There are HTML (for online sharing), App (to read on Mac), and Mobile version (to works on mobile phones and tablets).
5. Table of Content Editor
Make a new table of content (bookmark) with Wise PDF to FlipBook for Mac software, or import PDF bookmark into the created flipbook.
Flash Magazine Features:
While readers view flipbook, they can:
1. Share and Social share
Share the flash eBook to friends, family, or company partner via Email directly, or share it in social website, like Facebook, Twitter, Digg etc. Easy help Designers get more readers attention!
2.Lead readers link to you webpage
Designers can import link URL in tool bar setting panel before converting. When readers click on Home button, they will link to the webpage you set.
3. Help readers how to use flipbook

Designers can import help content file in tool bar setting panel before converting. When readers click on help button, they can easy to view flipbook as help tips.
4. Print and Download flipbook
Designers should enable these features before converting so that readers can print or download flipbook to read locally.
5. Different reading way
Read flipbook in full screen mode; Read flipbook in Auto play mode.