FREE
For Windows 7, Vista, XP

The Desert Theme Designed for Wise PDF to FlipBook Professional
Download This Theme to Decorate Your Flip Book!
Latest Page-flip book templates for free download .

Publishing your flip book with cartoon background.
Ever-updating templates help you in Wise PDF to Flipbook designing.
Download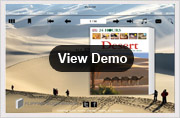 Flash Player 10.0+
Desert Theme Designed for Wise PDF to FlipBook Professional!
Desert has been always a mysterious place to all of us while some of us also are dreaming to uncover its mysterious veil. It could be quiet; it could be violent. Still remember the famous China writer Echo and her husband Jose from Spain spending their years in the Sahara. Their life in Sahara with happiness and sorrow touched me deeply. I believe, anyone who read their love story would be appreciate them. It is with Echo's eyes and heart that we find Sahara is such a lovely and nice place. Not only Sahara, other deserts, if injected human's affection, would be also lovable and cool. You can download this desert theme free and this theme is for Wise PDF to Flipbook Professional designing. There are three templates packed together and you can learn how to use it with the txt document which is called "how-to-install". This theme is suitable for traveling books and other landscape related books. You can apply them to create traveler's page-flip book, landscape related digital brochures, cool style flip magazines and so on. With such easy installation and simple design, you can own a refreshing page turning book with 3D effects.
Screenshot of the Desert Theme:
--------------------------------------------------------------------------------------------------------------------------------------------------------------------------
Flipbook series product:
Easily make page-flip book, e-books, publication, digital magazines from PDF files.
Make you easy to turn your PDF files to flash book without anybody help on Mac system.
Wise PDF to Flipbook Professional:
Help you to convert PDF to page flip book with multimedia objects integrated.
Wise PDF to Flipbook Professional for Mac:
Turn your perfect PDF file(s) to digital book with page-flip effect on Mac operate system, you can add many multi-media objects on pages.